Make the most of your business location!
Eye catching results are just a phone call away.
One of our clients has a great location for their building with great traffic flow past their premises, but they were concerned that their building didn't stand out from the surrounding businesses and buildings.

 (before transformation)
With some great ideas discussed, they decided on this striking effect.
The black and white stripes are eye catching and certainly add that little something to grab the attention of all that traffic flowing by. The whole project which included the entire exterior of the building was completed successfully by just some of our team including Graeme, Brendan, Chris, Jake and Simon and the striped effect will last 10-15 years.
The product used was Dulux Atex Roof Membrane and applied using rollers to an existing colour-bond bull-nose roof. The straight lines were achieved by free hand cutting in.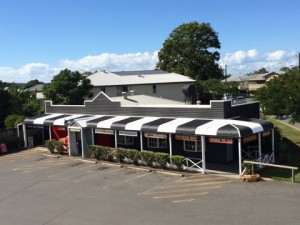 (after..the results speak for themselves)
So don't just blend with the others stand out from the pack, contact Darren Slater Painter & Decorator to discuss options to help you make the most of your location and position.
Darren offers a free – no obligation discussion, quote and colour consultant; with more than 25 years experience, Darren has built a reputation that has stood the test of time. Being a member of the Master Painters Association and a Dulux Accredited Painter ensures that you are dealing with a professional, call Darren on 1300 857 019, for further information.