Our Suppliers
Dedicated to providing a superior service.
Dulux
Trusted by Australian's since 1933, Dulux has cemented its positioning as a superior paint manufacturer and continues to lead the industry in product innovation. Designed for homeowners and trade professionals alike, Dulux manufactures paint products that protect and enhance residential and corporate spaces of all shapes and sizes. Offering a range of paint products in an array of colours and finishes to meet all your indoor and outdoor painting needs, Dulux is synonymous with quality and longevity.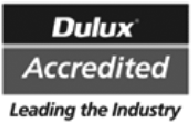 Porter's Paints
Creating beautiful, traditional and modern paint finishes using innovative recipes, Porter's Paints' are all water-based, durable, easy to apply and handmade. Porter's Paints are dedicated to utilising the finest raw materials, reflecting their unwavering passion for the environment and their consumers. With a unique range of products in an array of colours and finishes, Porter's Paints offers sustainable painting solutions for you interior and exterior needs.