Porter's Paints
Porter's Paints is Brisbane's expert paint specialist and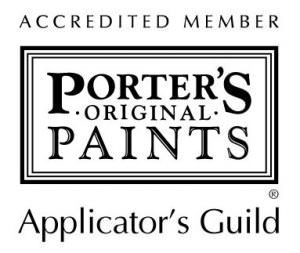 offer clients traditionally made, yet
modern finishes of paint and wallpaper for over 30 years.Porter's Paints continue to make and check each batch themselves to guarantee a superior finish, depth and accuracy of colour sourcing only the highest-quality materials from around the world. Their finishes have been created to ensure harmony and depth for both inside and outside.
Porter's Paints are water-based containing zero-to-low volatile organic compound (VOC) formulas – great for the environment by reducing your carbon footprint and families.
What are Volatile Organic Compounds (VOCs)?
All paints and well-known brands contain VOCs and petroleum-based solvents. When using paint, these compounds aid the painting process including the form, texture, brushability, and drying time. Once the paint dries, it leaves a 'fresh paint' smell.
VOCs are also evident in emissions, wastewater treatment and even mothballs used in closets.  High-levels of VOCs can increase environmental pollution and reduce the ozone layer.
Choosing a paint with a low VOC formula can help reduce your greenhouse footprint and asthmatic reactions and allergies.
Why Darren Slater prefers Porter's Paints
Porter's Paints create unique paint products with a brilliant finish and exceptional quality, which is why Darren is so passionate about teaching people how to use Porter's Paints products at their headquarters in Brisbane.
Darren Slater is an Accredited Member of the Porter's Applicator's Guild
For more information about Porter's Paints, head over to the Porter's Paints website.